Topo Map showing location of A Frame Hut
This information is sourced from DoC, LINZ and Openstreetmap. Some of the hut photos are mine and the rest are from DoC. I will be adding an upload feature soon so people can photos of .A Frame Hut.
Basic info: three-bunk hut in the Mid and South Canterbury area.
Latitude: -43.3829070235
Longitude: 171.370342618
Location: Hakatere Conservation Park
Area: Canterbury
Type of Hut: Basic/bivvies
Map: BW19
Topo Map
|
Road Map
Does this hut still exist? Have any more information?
Contact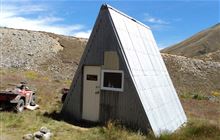 Image: DoC
Scroll down to see a topographical map and road map showing the location of A Frame Hut
Department of Conservation huts in the database
[ A ] [ B ] [ C ] [ D ] [ E ] [ F ] [ G ] [ H ] [ I ] [ J ] [ K ] [ L ] [ M ] [ N ] [ O ] [ P ] [ Q ] [ R ] [ S ] [ T ] [ U ] [ V ] [ W ] [ Y ] [ Z ]
Closest 20 Huts to A Frame Hut
These are as the crow flies
A Frame Hut 0km Comyns Hut 5.11km Tribulation Hut 10.79km Cookies Hut 12.8km Lagoon Hut 14.06km Double Hut 15.34km Charlies Hut 15.66km Alford Hut 18.86km Three Creeks Hut 19.12km Manuka Hut 19.41km Cutty Grass Hut 20.65km Downs Hut 20.65km Cookshop Hut 21.68km Manuels Hut 23.15km Jellicoe Hut 23.56km Thompsons Hut 24.31km Highland Home 24.31km Woolshed Creek Hut 24.54km Pinnacles Hut 25.26km Banfield Hut 27.1km Top Hut 27.91km Fanghill Hut 28.37km Cameron Hut 28.53km Boundary Creek Hut 29.12km Mathias Hut 29.12km Moraine Hut 29.18km Moa Stream Hut 29.58km Centennial Cabin 29.95km Evans Hut 30.69km Washbourne Hut 30.72km Moa Hut 30.74km Benmore Hut 31.25km Basins Hut 32.5km Old Basins Hut 32.71km West Mathias Bivouac 33.09km Back Basin Hide 33.29km Potts Hut 34.43km Reischek Hut 34.8km Lauper Bivouac 35.15km Hamilton Hut 35.16km