Topo Map showing location of Pahautea Hut
This information is sourced from DoC, LINZ and Openstreetmap. Some of the hut photos are mine and the rest are from DoC. I will be adding an upload feature soon so people can photos of .Pahautea Hut.
Basic info: standard 20-bunk hut with a campers' shelter on Mt Pirongia in the Waikato area.
Latitude: -37.9934843243
Longitude: 175.091945804
Location: Pirongia Forest Park
Area: Waikato
Type of Hut: Standard
Tracks: Pirongia summit via Bell & Tahuanui Tracks|Pirongia summit via Hihikiwi Track|Pirongia summit via Mahaukura and Tirohanga Tracks
Map: BE33
Topo Map
|
Road Map
Does this hut still exist? Have any more information?
Contact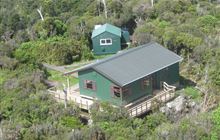 Image: DoC
Scroll down to see a topographical map and road map showing the location of Pahautea Hut
Department of Conservation huts in the database
[ A ] [ B ] [ C ] [ D ] [ E ] [ F ] [ G ] [ H ] [ I ] [ J ] [ K ] [ L ] [ M ] [ N ] [ O ] [ P ] [ Q ] [ R ] [ S ] [ T ] [ U ] [ V ] [ W ] [ Y ] [ Z ]
Closest 20 Huts to Pahautea Hut
These are as the crow flies
Hamilton Tomo Group Hut 29.26km Wildlife Hut 52.94km Leitchs Hut 55.92km Mangamuka Hut 74.13km Hurunui Hut 75.94km Ngamuwahine Shelter 76.19km Kauritatahi Hut 76.8km Motutapere Hut 77.68km Mangakino Shelter 78.62km Te Rereatukahia Hut 79.15km Bog Inn Hut 80.59km Waitawheta Hut 81.5km Daly's Clearing Hut 81.75km Wairoa Shelter 82.72km Waihaha Hut 89.75km Hauhungaroa Hut 91.89km Piggotts Hut 102.92km Rerekapa Hut 109.49km Crosbies Hut 114.54km Ten Man Hut 117.91km Ohuraiti Hut 118.24km Pinnacles Hut 119.12km Wairua Hut 119.65km Ongaruanuku Hut 130.26km Ketetahi Shelter 133.18km Mangatepopo Hut 135.32km John Coull Hut 138.74km Oturere Hut 139.58km Whakapapaiti Hut 143.21km Old Waihohonu Hut 144.3km Waihohonu Hut 144.54km Omaru Hut 146.22km Waipakihi Hut 146.54km Cascade Hut 147.91km Mangaturuturu Hut 149.24km Whangaehu Hut 149.68km Tieke Kainga 149.7km Pouri Hut 150.9km Puketotara Hut 151.13km Rangipo Hut 152.45km